OUTDOOR CHRISTMAS MINI SESSION IDEAS
Find inspiration for outdoor Christmas mini sessions photo shoots now that Christmas is almost here! Just get up, head outside, and shoot some fantastic images if you have a Christmas project coming up. Snow, spruce, stars, lighting, Saint Nicholas, and many other things are synonymous with Christmas. Choose a theme that fits the holiday spirit and add a dash of nature by having outdoor Christmas mini sessions. You might get some inspiration here for your simple outdoor Christmas mini session picture shoot in this post. Simply check the details below if you're interested. Below I will be listing several Christmas mini sessions outdoors.
Snow Angels Photoshoot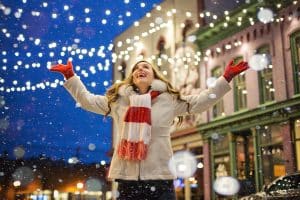 If you happen to be where there is enough snow on the ground, you can take advantage of this moment and take your outdoor Christmas tree mini session pictures. You can even make snow angels with your family as a pair or everyone alone. It is definite that the pictures will come out great and you will have great fun. Let us help you with your editing issues.
Do you want to find a beautiful location to take family photos where you may have the place to yourself? An excellent option is to book a secluded outdoor venue for your Outdoor Christmas Mini Sessions.
Playtime Moments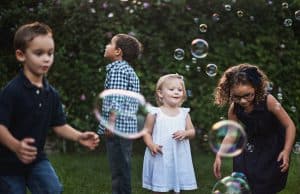 The playtime moment is one of the first concepts you should test for an outdoor Christmas mini session with a settee. Family portraits, especially ones with children, can use this approach. You can photograph children playing alongside their parents or pets in the snow.
The moment itself is the major emphasis of this photographic concept. You must time your capture of the playful moment perfectly. The ideal outcome for this outdoor Christmas photoshoot is that you get a photo that can tell you a story.
Illumination Christmas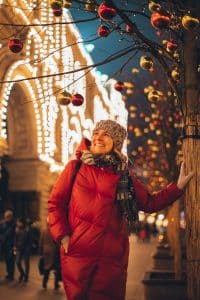 Winter illumination in Japan may be the best option if you're looking for inspiration for your Christmas outdoor mini session. Decorating could take some time. However, the outcome won't lie in the end, and you might obtain the best image. The finest piece of advice we can give you for a straightforward lighting Christmas photoshoot is to add LED lights to the nearby trees or other things. Make sure to locate a nearby electric source to power the LED lights.
Wintry Photos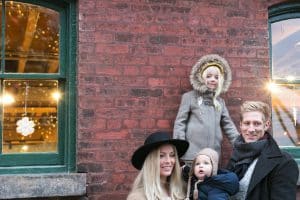 Christmas can be something other than the focus of every photo session! If performed outside, they can serve as a more all-encompassing celebration of the beauty of the winter season. Consider giving your shots a wintry tint if you want to tone down the Christmas feelings. Put on your warmest sweaters if snow is on the ground, start a fire, and pick a red barn as the background for a splash of color. Get inventive, but the final pictures will undoubtedly be cute. We are here to help you edit your pictures to perfection.
A Warm and Beautiful Moment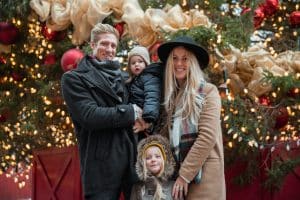 The final suggestion for the outdoor Christmas photoshoot is a spot where you may capture a cozy and beautiful moment. Anything maybe it. You might try to stroll down a festively decorated street for Christmas and capture a photo of a stranger purchasing a candy cane from a vendor. Look for some captivating instances where the warmth and love were visible in your shot.
So, which suggestions for an outdoor Christmas photo shoot do you want to try? Contact PhotoFix Team immediately if you need assistance with the photo editing for the Christmas photo shoot, and we will be happy to assist you in any way you need. PhotoFix Team has experts to help you achieve the best possible outcome for your Christmas photoshoot project. Your pictures need that warmth, and we are here to provide just that for you.
Wearing Matching Pajamas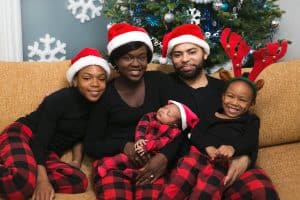 Contact us to advise on the best way to take your pictures. We are ready to help retouch your pictures. Giving your clothes the right color brightness. Put your family in matching Christmas-themed pajamas (you can choose the design, but it should be festive) and take family photos in a beautiful location. When you're not getting your picture taken, make sure to bundle up in lots of outerwear.
Take Matching Hat Pictures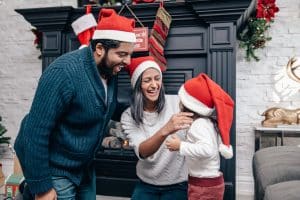 Santa hats for the entire family are our favorite props for a Christmas photo shoot, regardless of where you take the pictures. It is a classic for a reason, after all! You'll undoubtedly agree after viewing the pictures that a newborn sporting a Santa hat is one of the nicest outfit combinations ever.
Christmas Baking Photoshoot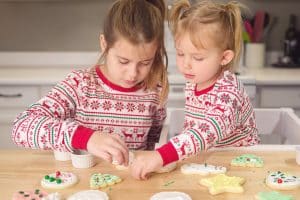 Photos of you and your children laughing and having a great time in the kitchen while baking, ideally, Christmas sugar cookies. Family members will undoubtedly adore the pictures, and you and your children will cherish the pleasant memories for years to come. Additionally, enjoying the delectable baked goods is a wonderful bonus.
Photos At a Christmas Tree Farm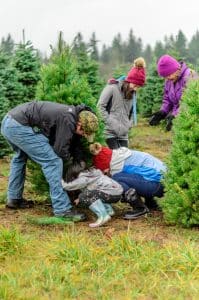 With this original notion for an outdoor Christmas picture shoot, the best option for your outdoor Christmas tree mini session. Gather your family and take them to the closest Christmas tree farm for a photo session but make sure first to ask the owner's permission, so you can avoid getting in trouble. You can ask us about the best places to rent Christmas tree farms. We are here to guide you through this process.
Snowball Fight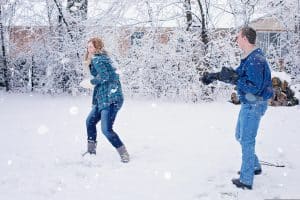 Although less tranquil than creating snow angels, other snow-related photo shoot ideas exist. You can also take pictures of everyone having a snowball fight, though some of your sillier family members may argue it's more enjoyable.
Matching Christmas Sweaters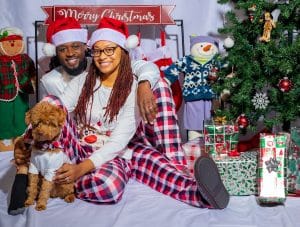 We love wearing coordinated family attire, in case you couldn't tell. However, this one is about warm Christmas sweaters rather than pajamas. The same sweaters can be worn in various sizes, or for a somewhat more understated look, sweaters of the same hue or a closely related shade but in a different shape can be worn.
Christmas Group Selfie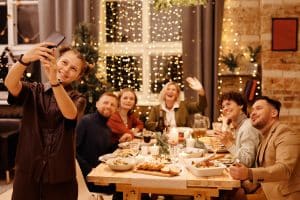 Finding a stunning outdoor location to serve as the backdrop for your group selfie, then standing as one of you takes the picture yourself, is one very trendy Christmas mini session outdoors photoshoot idea. This concept for a Christmas photoshoot is very practical and reasonably priced and offers a distinctive viewpoint for something like a Christmas card photograph.
You won't need to reserve a studio or employ a photographer. The only item you can acquire is a selfie stick, giving the user a bit longer reaches and a better angle for a picture of a bigger family. Send your pictures after you take them. No matter how much they are, we will help you edit them.
Using Props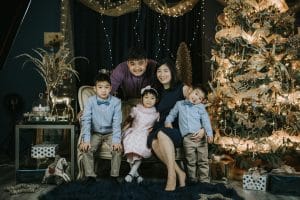 You might want to include some adorable props for your Christmas picture shoot! You can use stickers of lights, adorable ornaments, Christmas books, Santa hats, a Christmas wreath, lanterns, garlands, mistletoe, holly, and poinsettias to make your pictures look better. This is a very good outdoor Christmas mini session prop suggestion. Fake plants are acceptable to use as photo shoot props, and it's unlikely that anyone will be able to tell the difference in pictures.
Outdoor Winter Sport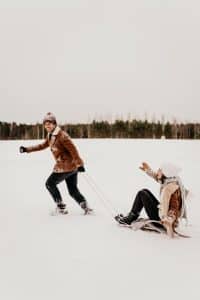 You could need an extra hand to help you here a photographer, a family member, or a friend. This is an excellent photo shoot if your family is a big fan of winter sports. This will lead to different activities you never thought were interesting. A good chance to explore new things.
Shoeprint in the Snow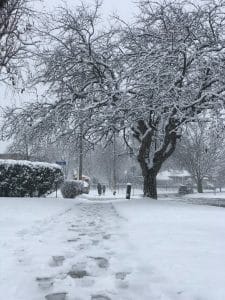 Other subjects are discussed during the Outdoor Christmas Mini Sessions outside beside the people in the image. We can play with the atmosphere and be a little downbeat. You could, for instance, photograph the footprints in the snow. It will convey a message about the path ahead, hope, and progress.
How Can I Take Outdoor Christmas Mini Sessions Near Me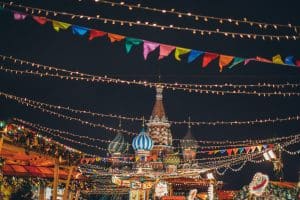 If you have been asking, how can I get outdoor Christmas mini sessions near me? Below are the perfect options for you.
Search For Open Shade
Only photographing mini Outdoor Christmas Mini Sessions during the golden hour is unrealistic. It is best to look for areas with many open shadows because you will be shooting for a few hours with varying lighting conditions. This way, you can strive to maintain the lighting consistently. Open Shade is a general term for a large area that provides long-lasting Shade, typically adjacent to a building, tree, or other large structure.
Avoid Congested Areas
Avoid choosing places for mini sessions in congested regions with a lot of foot activity. Convenience for your family is important. Another issue to consider is how simple or challenging it is for your customers to get to your location. How is the parking situation? How far will they have to go to reach your shooting location? Can you easily navigate the terrain in heels? The easier it is to travel to, the better. Offering specific instructions to our location in your Final Info Email is also preferable. You should also bring a helper to help walk your families to and from their cars. This is to avoid getting lost.
We're thrilled to offer you some Outdoor Christmas Mini Sessions advice. We've compiled a list of suggestions for the ideal mini session with a little forethought and a lot of effort. Christmas is rapidly approaching, so it's time to start planning your holiday attire and accessories. We'll provide you with all the guidance you require for making your Christmas memorable. Christmas Mini sessions are a wonderful way to return to the sunshine. They have wonderful pictures and are enjoyable, carefree, and informal. We are here to provide you the best picture editing process.  PhotoFix Team is here to put you through all your picture process and give your quotes and advice that can help you though taking your pictures and making them perfect. All you need do is contact us or text us on our website.